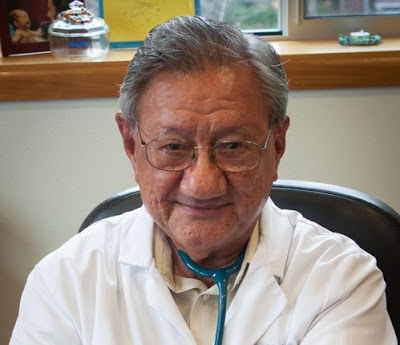 My father was my mentor, friend, business partner, and stalwart supporter throughout my life. He was a phenomenal physician who will be dearly missed by all who knew him.
Below is the eulogy given at his Celebration of Life on November 11, 2017.
My father was not religious in the traditional sense, so rather than quoting from scripture, it seemed best to look for a passage which epitomized the man he was. If you knew him well, you will understand why I chose the poem, "A Tear and a Smile," by Khalil Gibran, an Arabic Christian poet.
I would not exchange the sorrows of my heart, for the joys of the multitude.
And I would not have the tears that sadness makes to flow from my every part turn into laughter.
I would that my life remain a tear and a smile.
A tear to purify my heart and give me understanding
A smile to draw me nigh to the sons of my kind.
A tear to unite me with those of broken heart;
A smile to be a sign of my joy in existence.
It is difficult to imagine anyone touching more lives than my father. Over the past few weeks, many of you have shared his huge smile as the thing you will miss most. What I find so remarkable is that, that smile was the result of many tears shed in sorrow for losses in his life outside of his control.
I have learned one cannot have a truly unforgettable smile without shedding ample enough tears.
Dr. Saad Al-Agba was born in Baghdad, Iraq in 1936, and raised by a Turkish mother and Iraqi father. His life was marked by tragedy almost from the start; he lost his father in battle at the tender age of five. His mother was unable to speak Arabic, leaving him and his five siblings struggling to find their way. His uncle, a teacher, became a stand-in "father." Saad had to take over managing the family finances at nine, when his mother would give him the monthly pension check to divvy up for the food, shelter, and clothing needs for the seven in his family.
There were days at school where clothes would be given out to the children who lost their fathers in war. He had a great deal of pride and would stay home from school to avoid taking charity in front of others, even though his family desperately needed it.
Full of entrepreneurial spirit, he started a number of small businesses selling toys and other handmade goods while in elementary school. He took his family responsibility very seriously, and found himself apologizing to the principal at 11, on behalf of his 10 year old brother, who was in trouble. The fact he was always cleaning up the messes of his carefree younger sibling was a bit of a thorn in his side.
He worked hard and became a physician. His first order of business after going into practice was to buy his mother a home of her own. Shortly thereafter, his older sister was tragically widowed leaving her with five young children to raise alone. My father helped her raise his nieces and nephews, just as his uncle had done for him so many years before.
After journeying to England and then to the United States, he settled in Bremerton, with my mother, Barbara in January 1971. There were abundant smiles during those early years for my mother and father after the arrival of two daughters, Laila in 1973 and me, 18 months later. Tear returned when his beloved oldest daughter, Laila, drown in the shallow waters of Brownsville in 1975. He never quite recovered, carrying the scar of this painful loss deep in his soul for the rest of his life.
As time passed, and other parents lost children, his tears and empathetic nature served to unite him with them. He shared the same broken heart in a way few physicians or parents could even fathom. His ability to comfort a distraught parent through his tears and theirs was his gift to the world.
He and my mother raised four children to adulthood, me and my three younger brothers. He always made time for us despite running a bustling medical practice. He could always be counted on for good advice hidden in esoteric philosophical statements, the message from which could take a few days for me to fully comprehend.
Joining his practice and being able to work side-by-side with him for 16 years was an extraordinary experience. He had a wonderful way of sharing knowledge and we were always learning from one another. Many patients benefitted from the "two-for-one deal," basically the opinion of two physicians for the price of seeing one. Sometimes, he would have me look at a patient and ask me to guess who they reminded him of, which had nothing to do with the practice of medicine; though his grin would be a mile wide if I could read his mind accurately.
Heartbreak found our family again when my little brother, Laith, died in an accident. My father was out of town at a medical school reunion; we waited until he returned home to tell him so he was surrounded by his family. Watching my father accept his son was no longer with us on earth will remain one of the most challenging moments of my life. After that, his smile was never the same, yet continued to face the world with an admirable grace and endearing, yet subdued grin.
It was during that summer while filled with grief, my father said if he ever meets God, he would have one stone in each hand to throw at Him, one for his daughter and one for his son. I told him God would understand, because he knows our hearts, He has a sense of humor, and most important, He lost his own son as well.
Four grandchildren came along pretty quickly after that terrible summer and my father relished in his time with them. When they were small and I was constantly pregnant and exhausted, he would come by every weeknight to help me bathe them. I would not have made it through that challenging time without his loving assistance.
As the grandchildren grew older, my father could be seen around town with them at Goodwill, Chuck E. Cheese, the bowling alley, Kohls, and McDonalds. He insisted the plain cheeseburger and milk was the healthiest meal on the menu and he was usually right when it came to such things. We did tangle about whether chocolate milk should count as part of this nutritious meal, and with a twinkle in his eye, he reminded me to "let them live a little."
My father fought with death until the very end. In reality, God likely waited until my father no longer had the strength to carry those two stones with him on the journey home. That October day was probably memorable for God and my father as they went head to head. I have no doubt he and God talked about many things as my father made peace.
"The deeper that sorrow carves into your being, the more joy you can contain."
Over the last few weeks, I have realized while death played a larger role in his life than my father wished; his sorrow connected him to people in a way that was unparalleled. His agonizing wounds allowed him to know unadulterated joy deep in his soul. It was his many tears and his big smile together, which made him so endearing, beloved, and revered.
In closing, I will share my favorite Kahlil Gibran poem, On Children:
Your children are not your children.
They are the sons and daughters of Life's longing for itself.
They come through you but not from you,
And though they are with you yet they belong not to you.
You may give them your love but not your thoughts,
For they have their own thoughts.
You may house their bodies but not their souls,
For their souls dwell in the house of tomorrow,
which you cannot visit, not even in your dreams.
You may strive to be like them,
but seek not to make them like you.
For life goes not backward nor tarries with yesterday.
You are the bows from which your children
as living arrows are sent forth.
The archer sees the mark upon the path of the infinite,
and He bends you with His might
that His arrows may go swift and far.
Let your bending in the archer's hand be for gladness;
For even as He loves the arrow that flies,
so He loves also the bow that is stable.
Reflecting on my father's life and legacy, I will remember him as the bow that was stable. There are countless stories of lives he saved and hearts he touched. Just as God loves each arrow that flies, He loves the bow sending the arrows forth. His last day in our office was Friday September 15; he saw 17 patients including one child with an allergic reaction to medication. This heartbroken mother shared that my father saved her daughters' life, providing care for which she will always be grateful.
He spent a lifetime sending forth those he loved; including his nieces and nephews, me and my siblings, my four children, and many of you sitting here today, so each of us could go as swift and as far as possible.
It is in heartfelt gladness we should celebrate and remember my father, Dr. Saad Al-Agba. He knew the souls of the children for whom he cared would dwell in a future he would never see; yet, he accepted while he could not visit that tomorrow, even in his dreams, he could touch it in a small way through his connection with each and every one of us. He freely shared his tears and his smiles with so many and for that; I thank God from the bottom of my grieving heart.