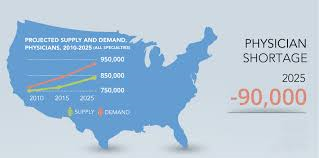 The Association of American Medical Colleges predicts this country will be short 91,000 physicians by 2020 – half of which are needed in primary care specialties. However, there is little consensus amongst experts in political healthcare circles that a physician shortage will materialize. The Institute of Medicine, a nonprofit think tank, hypothesizes the inefficiency in healthcare is more to blame, casting doubt on an impending scarcity. Academic economists insist the solution is to flood the workforce with mid-level providers and automate medicine further.
According to the Kaiser Family Foundation, there are approximately 968,743 doctors practicing in the United States. Taken at face value, that number seems adequate, however there are a couple of caveats. Data shows that the average age of physicians is continuing to climb. Nationally, 1 in 3 physicians are over 50 years old and 1 in 4 are over sixty. That means at least 25 percent of the physician work force could retire soon, translating to a loss of more than 223,000 doctors. Also, most experts agree that physicians prefer living in major metropolitan areas to rural locales. To make matters worse, Medicare reimburses more in places where the cost of living is higher, a lopsided scheme which further disincentivizes physicians from migrating to rural areas.
The aging of the physician population and a definitive preference for urban centers has resulted in a problem of physician maldistribution, which according to a recently released report from the Office of Financial Management/ Health Care Research Center, is getting worse. In Washington State, there are currently 18,730 practicing physicians. About 37 percent, or 6,885 physicians, work in primary care fields, including family medicine, internal medicine and pediatrics. To put the physician maldistribution problem in perspective, the five most populous counties – King, Pierce, Spokane, Snohomish, and Clark — are home to 73 percent of the state's physicians while they account for just 65 percent of the population.
Only 6% of physicians practice in rural areas, yet they serve 16% of the population. Kitsap County has 443 physicians, equivalent to 2.4% of the state total and is one county experiencing a shortage of primary care physicians. Kitsap County falls below the state average in every primary care specialty across the board.
For the purposes of the OFM report, figures are expressed as a ratio of physician number per 100,000 population. For the family medicine specialty, the state average is 41 per 100,000 people, yet Kitsap has just 36 to serve 100,000. In internal medicine, the state average is 38 physicians per 100,000 and Kitsap significantly lags behind with merely 25. The outlook for rural pediatricians appears even bleaker; the state average is 12 per 100,000 and Kitsap survives on half that number, with just 6.
Americans– especially vulnerable populations, like children — will be affected most when they cannot get the care they need, but the trend will grow to affect us all in time. Effective solutions to the fact that patient demand is outgrowing physician supply, have remained elusive. In our society, it is not exactly a good time to be a physician. According to a 2012 JAMA Internal Medicine Mayo Clinic study, 46% of all U.S. physicians are emotionally exhausted, feel cynical about work, or have lost their sense of personal accomplishment … or suffer from all three. A 2012 study of 5000 physicians showed that 89% of practicing physicians would not recommend medicine as a profession to their children or other family members. Doctors have the highest suicide rate of all professions. We are losing our most compassionate people to careers with less stress and a flexible lifestyle.
We must entice our best and brightest to enter medicine. And in order to accomplish that, our healthcare system must change.
The report released by the Office of Financial Management is a clear warning sign that the physician shortage is already impacting Kitsap County residents. As physicians, we should educate the public and try to find ways to better incentivize other physicians to choose rural areas in which to live and work. Until then, find a primary care physician you can trust as they are worth their weight in gold.